Diane Linn/Bio
Diane Linn is a versatile singer/songwriter with a sound that is best described as "American Celtic".
Here are some of the venues where she's been featured:
| | |
| --- | --- |
| The Celtic Fling | Mt. Hope Estate, PA |
| Crossroads Old World Festival | Palm Springs, CA |
| Barber Ortmann Horticultural Center Concert Series | Chicago, IL |
| Swamp Celt Fest, Lamar Dixon Expo Center | Gonzales, LA |
| Yale Street Coffee House | Houston, TX |
| Allenberry Resort | Boiling Springs, PA |
| Roger's Roost St. Patrick's Day | Detroit, MI |
| Barnes and Noble, Palisades | Nyack, NY |
| Bristol Renaissance Faire | Bristol, IL |
| Scarborough Renaissance Festival | Dallas/Ft. Worth, TX |
| Texas Renaissance Festival | Houston, TX |
| The New York Renaissance Festival | Tuxedo Park, NY |
| The Ohio Renaissance Festival | Waynesburg, OH |
| The Italian Renaissance Festival at the Villa Vizcaya | Miami, FL |
| The Colorado Renaissance Festival | Larkspur, CO |
| Los Angeles County Irish Faire | Los Angeles, CA |
| Tachi Palace Hotel and Casino | Fresno, CA |
| Oppenheimer Place | Los Alamos, NM |
| Henke House Concert | Los Alamos, NM |
| Sherwood Forest Faire | McDade, TX |
| Sherwood Celtic Festival | McDade, TX |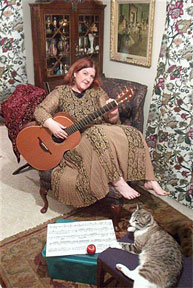 Diane Linn is a member of the Avalon Guitars Artists Program (avalonguitars.com – see folk/traditional artists) Diane plays guitar, bodhran (Celtic drum), and piano. Her four cds – "Bard of the Mountains", "Janus", "A Rogue by Any Other Name" and "Conversations with the Moon" have received critical acclaim, (see Raves and Faves). "Conversations with the Moon" is featured on cdbaby.com/linn.
She began a holiday tradition in 1986 with quartets and trios dressed in Victorian costume. The demand is high throughout the Houston area at special events and parties. Most recently, Diane joined "voices" and musical instruments with The Merry Minstrels – Bob Bielefeld, Leslie Tabor and Jim Hancock.
Diane portrayed a struggling Country & Western singer, Babs Foldanrock at Allenberry Resort Murder Mystery Weekend in Pennsylvania. On stage at Main Street Theater in Houston, she was a member of the chorus in "Sweeney Todd" by Stephen Sondheim. She's toured with Young Audiences in central and southeast Texas schools in "Hip Hip Huzzah".
Also a versatile character actor, Diane plays a wide variety of interactive characters at corporate events and parties:
Mrs. Whitney for Whitney Banks, Mae West, Annie Oakley, Harry Potter's Mrs. Weasley, Aunt Bea from Mayberry, Miss Kitty, Margaret Dumont with the Marx Brothers, her privateer, Captain Velvet Bonny, has patrolled realtor and lawyer gatherings for recruits.
"More songs to sing, more tales to avow, more blarney than the law doth allow!" is the motto of Diane Linn's "Bard O'Neill" musical variety show. Music Director at the New York Renaissance Festival is also among her credits. She's taught language and improvisation workshops, directed performance company shows and the pub sing at the NYRF, TRF, and Scarborough Faire. No stranger to the microphone, she's done voiceover work & media appearances in Houston, Dallas, Denver and New York.